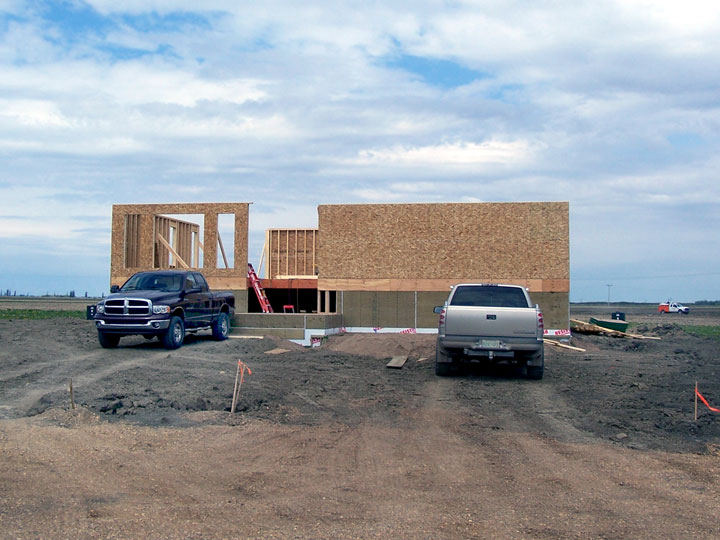 This is the stage of this house at 11:00 this morning
House number seven
---
FTLComm - Tisdale - Thursday, June 11, 2009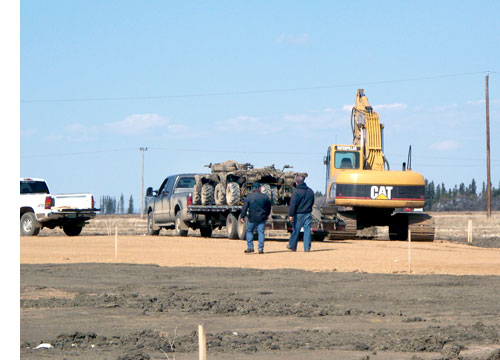 On Sunday morning at 11:00, April 26th (right) it was time for Colin Chupa of Chupa Excavation to go over the site on the new cul-de-sac on the northwest corner of Tisdale in preparation for work the following day.
This would be the first house to be started on the new street and though the water and sewer lines had been installed electrical and gas lines were not in place.
Monday, April 27 at noon (below) the trench and water and sewer services were in place and work was beginning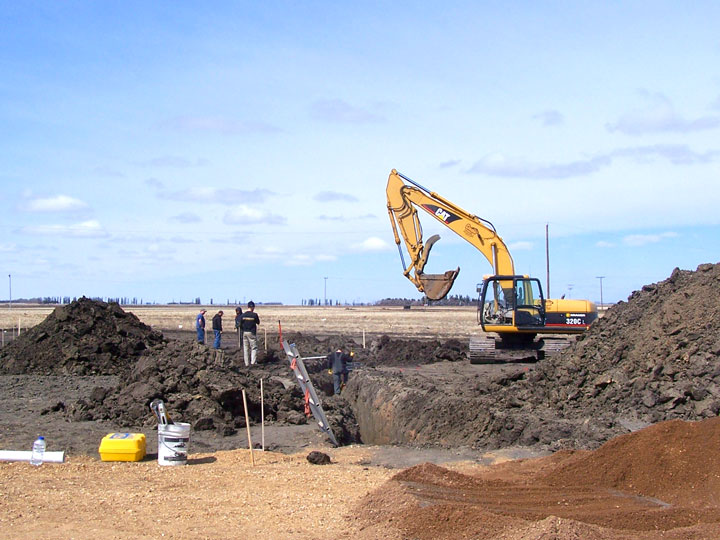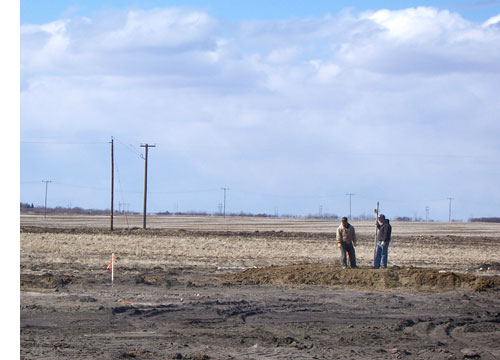 on what would become the basement for this house.
This house is on the northwest corner of the little street but is the lowest point in the development. On the right you can see two workmen standing atop a dirt pile as part of the survey process. The basement would need only to be a couple of feet deep as the whole lot has to be brought up to the top of the dirt where the workmen are standing.
By Wednesday, April 29th the footings had been poured and the walls of the wood basement were being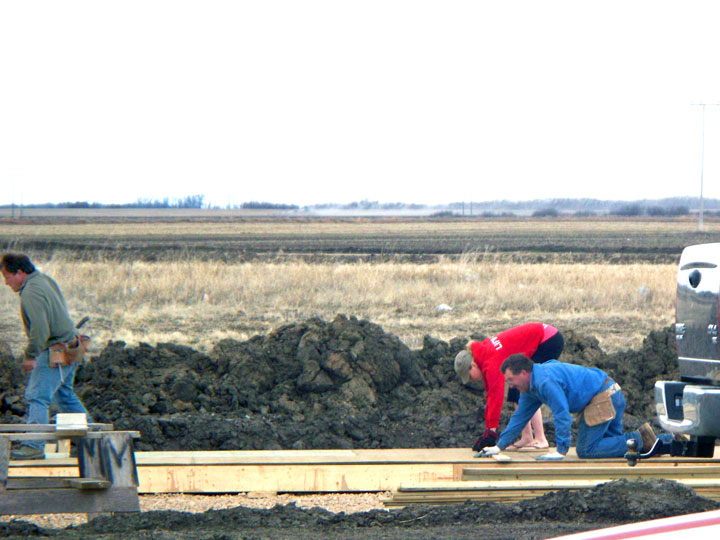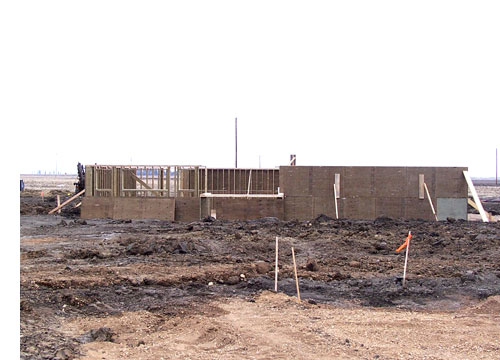 assembed (above) on Tuesday, May 4th. By Friday, May 8th most of the new wood basement was standing (right).
In the meantime as fill became available the lot was gradually being brought up to the level that had been established when the project began.
Wednesday, May 13 (below) a small crane was brought on the site to lift the floor joist up onto the finished basement. The low level of the surface relative to the wood basement will be corrected as more fill will be brought onto the site. But at this point the hook was a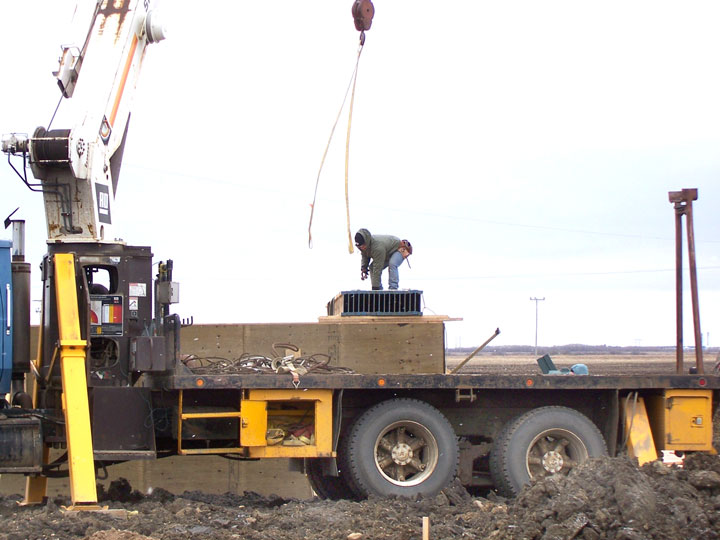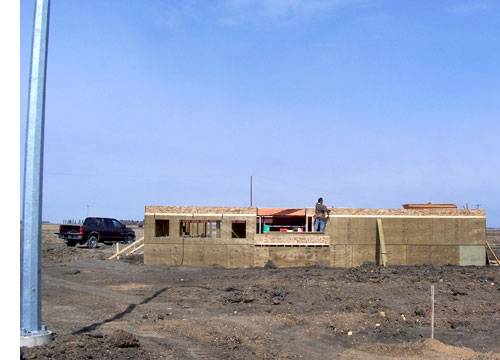 good idea.
At this point the project slowed considerably but by Thursday, May 21 (right) the floor was completed. Since then no work was done until yesterday when the walls were assembled and erection of the structure began.
Review:
house 1
house 2
house 3
house 4
house 5
house 6 (basement only)
house 8
house 9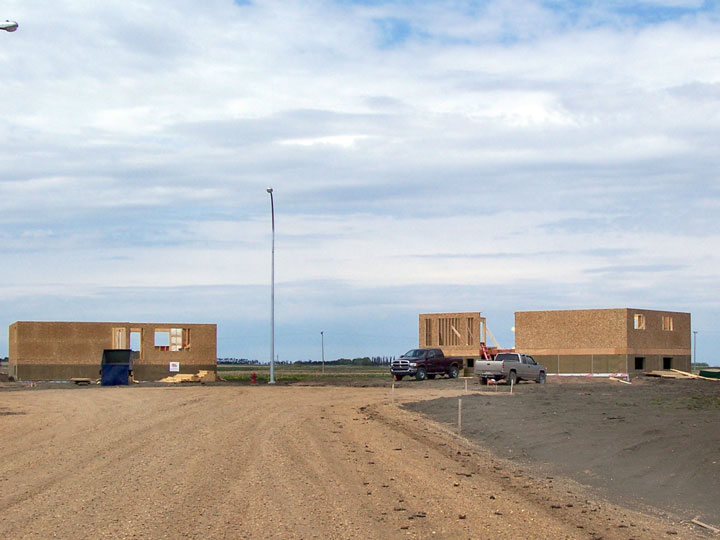 ---
Return to Ensign or Saskatchewan News
This page is a story posted on Ensign, a daily web site offering a variety of material from scenic images, political commentary, information and news. This publication is the work of Faster Than Light Communications . If you would like to comment on this story or you wish to contact the editor of these sites please send us email.
Editor : Timothy W. Shire
Faster Than Light Communication
Box 1776, Tisdale, Saskatchewan, Canada, S0E 1T0
306 873 2004