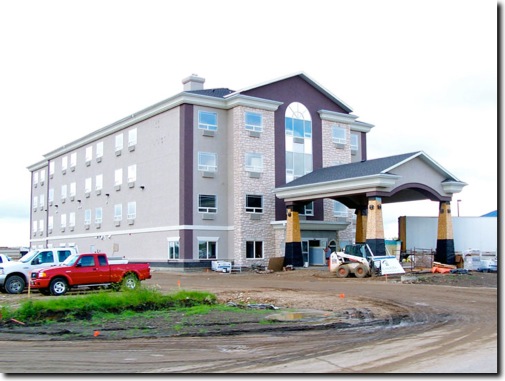 Furnishing the CanAlta
FTLComm - Tisdale - Wednesday, August 11, 2010

Only a bit of the final finishing touches to the exterior of Tisdale's newest business needs to be finished and work is moving along on the new parking lot.

Besides the construction crew and various tradesmen finishing up the building the staff of 20 went to work on Monday of this week. Today trucks were busy unloading beds and fridges as the rooms are now well on the way to being fitted out for the place to open at the end of the month.

The new staff of mostly women and three or four men were hired from Tisdale and surrounding area.

Normally it takes about a month to fit out a facility like this one but the process has been compressed into three weeks with this project.

Our last story on the new hotel/motel was back on December 21 of 2009 when the first walls were erected. Since then we have kept a running record of images as the place has grown and if you click on the pictures page you can see the building grow to its present state with workmen moving beds into the main entrance.