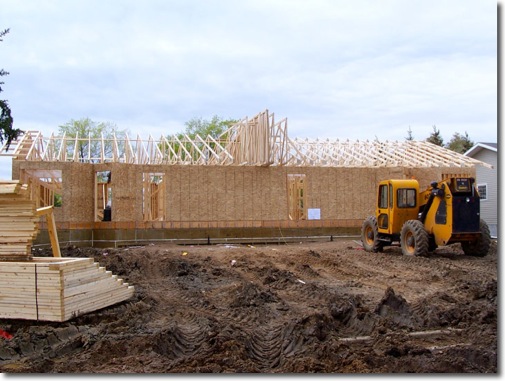 Fourth project a duplex

FTLComm - Tisdale - Friday, May 28, 2010

Last year the former site of the tennis court that once occupied this large lot was cleared and a large duplex erected. Most of the multi-dwelling condos built in Tisdale are constructed on a foundation with a crawl space. However this new duplex last year was constructed on a full basement and each unit is substantially larger than the one floor versions. When the project began last year it was known that it was part of what would become four dwellings. Now the other two have been put in place.

This set of dwellings in the same design as those begun last July sits atop a study wood basement which substantially seeds the construction process.

In the picture at the top of this page you can see that the project is really quite far along when you consider it only was begun a month ago. The rafters are in place and you can see the extensive construction in the centre where a firewall is constructed to improve the survivability of one of the two dwellings in the case of fire in the other.

This building is well back from the street because the garages will be added once the main structure is in place.