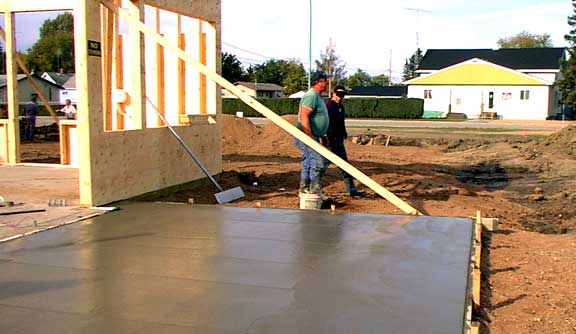 Monday construction review
FTLComm - Tisdale - Monday, September 16, 2002
A & W third week

Monday
September 16, 2002
The fourth wall went up today, the footings for the sign have been dug and concrete work on the pads and curbs is moving right along.
---
House eight basement under construction

Monday
September 16, 2002
The new Zimmer house looks like it will get a wood basement as Farbers began putting up the basement walls this morning.
---
Valley Fuel's tanks are being set into position

Monday
September 16, 2002
Using entirely external contractors Valley Fuels have a crane on their site today moving the storage tanks into position.
---
House nine gets its footings

Monday
September 16, 2002
The basement was dug on Saturday and today the footings are being set in place as this project moves very quickly into high gear.
---
Nuform's expansion building is up

Monday
September 16, 2002
The enlargement of the recycling paper company required the addition of a new portion to their existing building.
---
Re-doing a front yard

Monday
September 16, 2002
A neighbour sets about redoing their front yard and get some skilled help to go with their original ideas to make a really big improvement.
---
Return to Ensign - Return to Saskatchewan News
This page is a story posted on Ensign and/or Saskatchewan News, both of which are daily web sites offering a variety of material from scenic images, political commentary, information and news. These publications are the work of Faster Than Light Communications . If you would like to comment on this story or you wish to contact the editor of these sites please send us email.
Editor : Timothy W. Shire
Faster Than Light Communication
Box 1776, Tisdale, Saskatchewan, Canada, S0E 1T0
306 873 2004