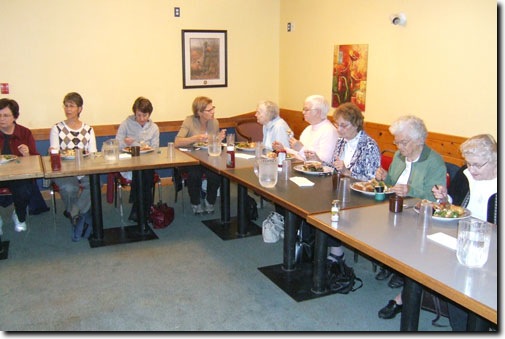 Visit to Porcupine Plain
Porcupine Plain - Thursday, September 23, 2010, by: Darlene McCullough
Tisdale Chapter of Superannuated Teachers of Saskatchewan enjoyed an outing to Porcupine Plain on Monday, September 20. The twenty-one members started their visit with a stop at The Cove restaurant in Green Water Lake Provincial Park where they enjoyed a delicious turkey dinner with all the trimmings.

From there they journeyed on to Porcupine Plain where they toured the local museum. The museum is closed after the Labour Day weekend but thanks to two friendly and hard-working museum volunteers, they opened it just for this tour group. The main building of the museum is housed in two floors of the former hospital. Here there are numerous displays; certainly something to interest everyone. There are the usual household items with rooms set up to replicate the settings from the past. In addition there are displays of animals, blacksmithing tools, clothing and dolls from around the world to name just a few. The latest acquisition is a cabinet with a pressed weeds collection and equipment that was assembled by a local man.

In addition to the main building there is a pioneer home with an old wood-burning cook stove, tables and chairs, utensils, wash basin and stand, and upstairs there is a bed, a couple of cribs, and a treadle sewing machine. It was the one-room multi-grade school that interested most of these tour members. Some of them had attended schools like this and others had started their teaching careers in this type of school. The school has been given a lift with a new floor but there are original desks, textbooks, maps on rollers, rock collections, and other school articles that were of particular interest including lard pail lunch containers! It was truly a trip down memory lane from the cloakroom to the teacher at the front of the class. Then is was on to heritage church which again is furnished with original pews and organ.

There were lots of "I remember this" and "oh, come and see this," type of remarks throughout the tour. Many thanks to the volunteers who gave their time to open the museum so this tour group could enjoy the articles gathered and displayed by the Porcupine Plain Museum Committee.