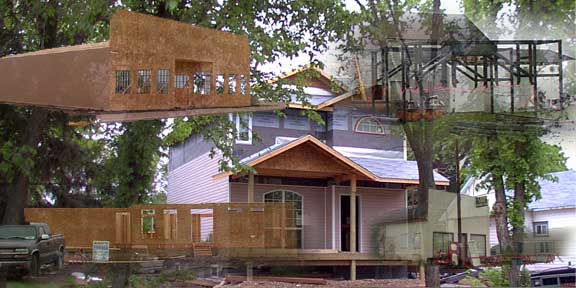 Construction Updates - June 19, 2002
FTLComm - Tisdale - Wednesday, June 19, 2002
For a small Saskatchewan town there is a lot of construction in Tisdale and the summer is just beginning.



House number five got underway this week with a new basement just South of the apartment block only two blocks from the hospital.

Meanwhile just North of Bow Mar Sales Ltd. the sign announcing the construction of a new A&W has disappeared so we will have to keep an eye on that property and see what develops.



The new store for Inchworm became a real building this week as the walls and rafters went up between Groat Auto Supplies and St. Paul's United Church.

House number three a ready to move home came to town last week and all this week service people have been on the job connecting up water, sewer, natural gas and today there were electricians and SaskPower on hand.



There is no question about the impressive appearance of house number two, planted on an existing developed lot amidst a neighbourhood this elegant two story is in its completion stages.



New houses seem to grow very quickly because the structural portion of the home can be assembled rather swiftly it gives the impression that the place is a reality overnight. House number four only got its footings last week and yet it is now taking shape as Farber Construction has the walls and floor in place.



Without missing a shift of production Nuform Packaging is forging ahead with the expansion of its production facilities. There were contractors on the scene inside and out this morning as the building and its equipment are being redeveloped.



This little building most recently house a taxidermis but it is getting serious renovations as L.A. Videos is being readied for buisness just East of the Post Office.