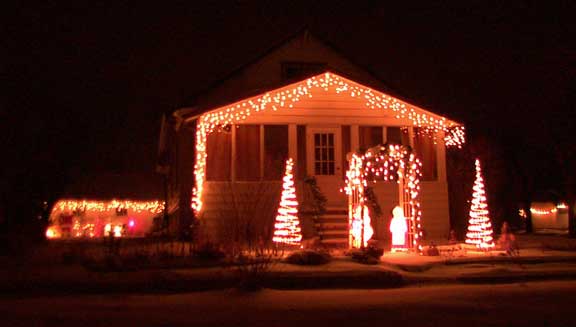 Lighting Up For Christmas
FTLComm - Tisdale - Thursday, December 6, 2001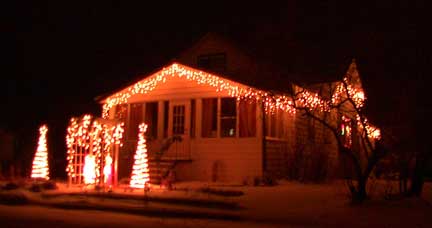 At a recent seminar in Saskatoon Christmas decorations on a house was compared to graffitti. The scholar likened the marking of ones territory and declaring to the world a way of identifying themselves. It is an interesting idea and deserves some more consideration but whatever the motivation each year people a good deal of time, effort and money into making their house and yard glow for others to see.

The house facing the highway on the South side of town is really exceptional with not only a great display in front and on the house but a special display in the back yard around the garage that adds even more light to the house on a corern lot.

The house below has been featured in this publication every year and is looking even better this season as it is now fully dressed with a whole range of displays around and on the house.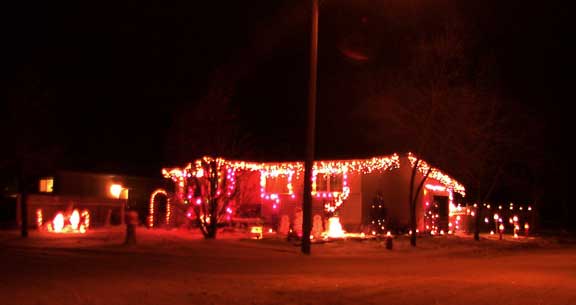 As we move toward Christmas we will try to bring you some other examples of this remarkable phenomena that sweeps this community each year. The people who referred to house decoration as a kind of graffitti noted that where ever it occurs the neighbours will get into the spirit of things and they too will produce displays so that it seems to evoke a similar attitude in those around the house that is decorated. This might explain the exceptional displays one finds in Tisdale where home owners really exceed themselves in decoration for the Christmas season.

This idea that the neighbours are encouraged to put up lights is really fascinating because when asked most people will tell you they do it to show the "Christmas spirit" it would appear that in this way it works.

Below other years and what was seen then:
| | |
| --- | --- |
| Christmas lights 1997 | More Christmas lights 1999 |
| Christmas lights 1998 | Christmas lights 2000 |
| Christmas lights neighbourhood 1999 | Christmas lights in the park 2000 |
| Christmas lights the town 1999 | More Christmas lights 2000 |