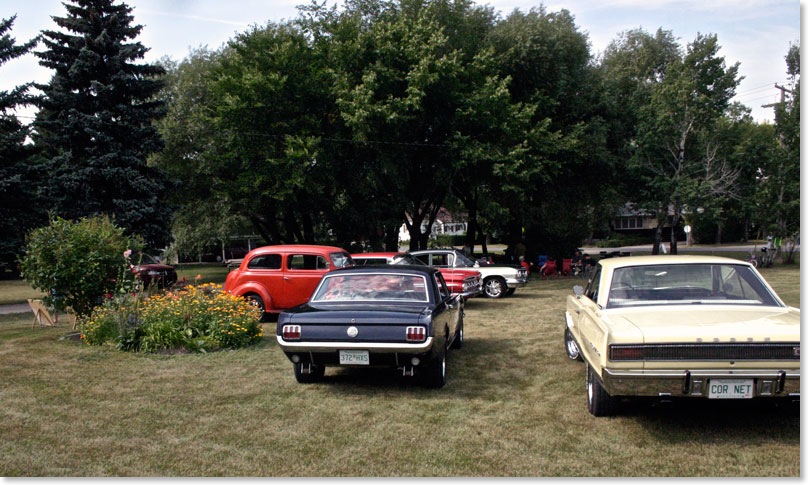 Cars to show and shine
Grenfell - Tuesday August 27, 2013
by:Timothy W. Shire

For more than two hundred years, North American men have reflected who they are and their status by what they drive. A stallion and a snappy looking buggy, a gelding and a buckboard, a model "A", a model "T" in 1945, what ever the era, the vehicle in the wide open country we live in, the mode of transportation seems to be pretty darn important. I remember asking some teenage girl volleyball players what they wanted in a boy friend and the answer was "mustang", "convertible" or "stick shift."

Each summer car buffs gather together to show off their collected cars, not the ride, but the cherished choice vehicles that they choose to own purely for pleasure. Some of these gatherings are huge, like the one in Saskatoon this past weekend, while others are much more modest. However, the size of the gathering doesn't matter, it's the quality that counts. For every collector, there must be hundreds of us who just love to slice through our memories and hum, feel and absorb, the automotive atmosphere. As I worked on the pictures for these stories I remember washing those crazy tail fins on a 59 chevy and when looking into the cheap interior of the 66 Mustang, it is all much more like a time machine of some kind, telling one about their past dreams, perhaps even more than their past memories.

On last Saturday we went to the Grenfell museum and on the lawn was a modest car show and barbecue, I ignored the customised machines and the pickups, because they hold no excitement, or emotions for me and I concentrated on the nice set of mid century classics.



1959 Chevrolet Impala
four door hardtop, the one that was nicknamed "the flat-top."



1960 Chevrolet Bel Air
four door sedan, in magnificent condition but low in value because there are so many of them.



1966 Ford Mustang
the original muscle car.




1967 Dodge Coronet 500
in show room condition and most likely pretty valuable because of their limited numbers.



1970 Ford Torino
with a really great paint job.



1970 Mercury Cyclone GT
this one appears to be a 351 cubic inch equipped V-8 with its dual exhaust.



1970 Volvo 1800E
the 130 hp sports coup with all four disk brakes