The Week of November 15 to 21
Friday
November 20, 1998
A poignant and troubling letter is published here in Ensign dealing with what appears to be widespread misrepresentation and dirty dealings by this government agency.
Liberal Leader Starts Petition

Thursday
November 19, 1998
Jim Melenchuk tries to get some interest in his party with a call for a petition.
SoccerStars in Mexican Bar

Thursday
November 19, 1998
Once more Jennifer Shire lets us in on one of her adventures. Nearing the end of her term in Mexico Jennifer encounters a pair of soccer celebrates.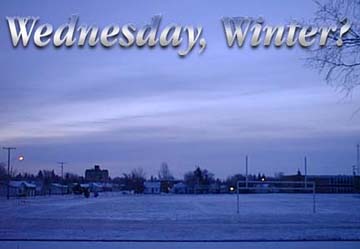 Wednesday, November 18, 1998

At 0800 this is what the Tisdale sky looks like, temperatures were close to -20 all night. Though there were several light showers of snow Tuesday there is little snow on the ground just enough to make the streets slipper (normal winter driving conditions)
Macintosh This Past Year

Wednesday
November 18, 1998
This is a full conference presentation including slides and oral commentary by Timothy Shire on the revolution in computing that has taken place during this past year. This requires QuickTime 3.0.
Plymouth Mania

Tuesday
November 17, 1998
The recent article on old Plymouths has increased our awareness of these machines here is a view of a 1940 version.
Beavers Be Damned

Tuesday
November 17, 1998
Between Wakaw and Melfort some busy Beavers have had their habitat disturbed as their damn has been destroyed letting a stream go. This article includes a QuickTime VR panorama.
Crane Day

Sunday
November 15, 1998
Mobile Cranes seen in 3s