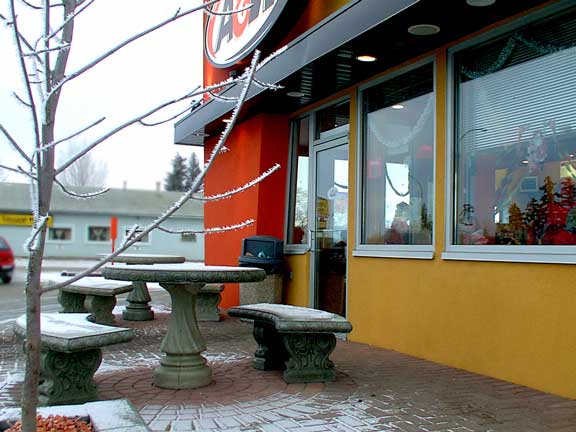 A&W Tisdale Grand Opening
FTLComm - Tisdale - Saturday, December 14, 2002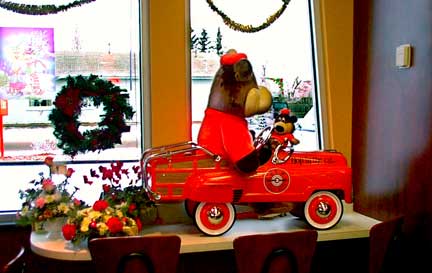 The Tisdale A&W actually opened for business on November 5 and has been doing a good business since then. But today it was time to celebrate the opening making its operation official.

Mama Burgers for 99¢ and Teenburgers for $1.99 were part of the celebration with a ribbon cutting at ten this morning and the folks from CJVR on hand to record the all day event for posterity.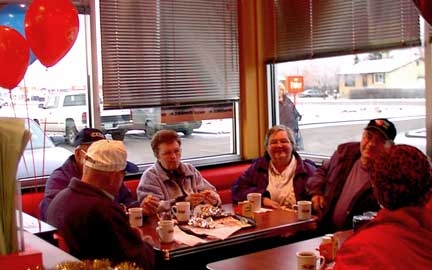 The RootBear pedal car is to be drawn for tonight at 9:00.

All but the second last picture were taken at ten after ten this morning when there were lots of customers. The second last picture on the page shows the crush at noon hour.

It was just as crowded behind the counter as the staff, all local folks pitched in to keep the root beer flowing and the hamburgers coming off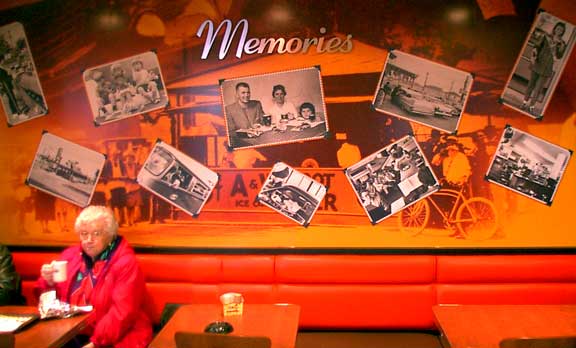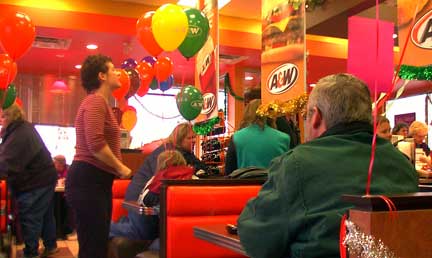 the grill.

Free balloons for the kids and Mama burger aerial ornaments were handed out and there were smiles and good spirits all day long.

in this picture the press and Chamber of Commerce are chatting over the affairs of the world.

Perhaps this is a good time to go back over process that took place get to this moment.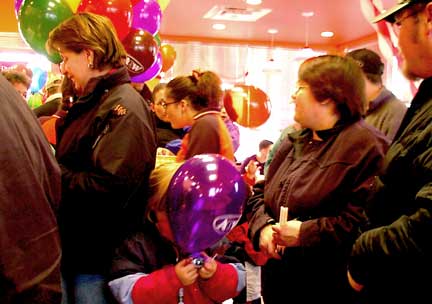 "Will you have Cheese with that?" August 26

A&W Forms, September 4

Buy local not here, September 5

Start at the bottom and work up, September 10

Walls, Walls, Walls September 13

A&W third week, September 16

A&W takes shape, October 9

A&W opens today, November 5

"Have to say it", November 9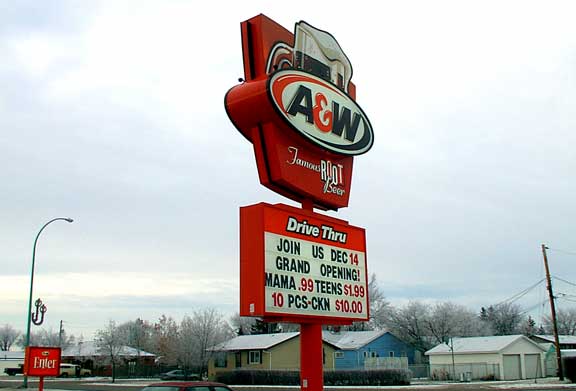 ---
Return to Ensign - Return to Saskatchewan News
This page is a story posted on Ensign and/or Saskatchewan News, both of which are daily web sites offering a variety of material from scenic images, political commentary, information and news. These publications are the work of Faster Than Light Communications . If you would like to comment on this story or you wish to contact the editor of these sites please send us email.
Editor : Timothy W. Shire
Faster Than Light Communication
Box 1776, Tisdale, Saskatchewan, Canada, S0E 1T0
306 873 2004