Front Page Pictures of the Day
Some times Ensign has merely a cover picture for the day with synopsis of stories that will appear later in the morning. These pictures present a kind of photography diary and are worth looking over.
---
Sunday
December 26, 1999
This is Christmas day as it began in Tisdale with the sky flooded with crimson.
---
Monday
December 13, 1999
HiHo, HiHo its off to work we go, this picture was taken at 8:45 as Monday got underway in Tisdale. Thanks for dropping by, would love to hear from you.
---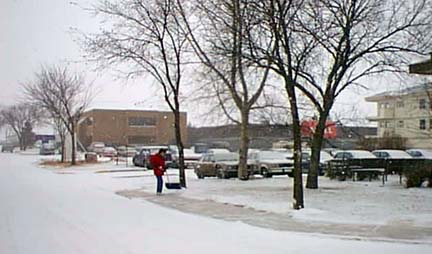 Thursday
November 24, 1999
As this morning's snow falls this lady is waging an uphill battle as this snow is likely to be here until spring. (Picture taken at 9:25)
---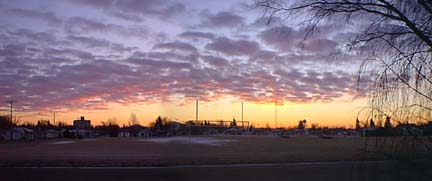 Wednesday
November 24, 1999
This morning's breeze is almost undetectable and yet this arrangement of cloud that seemed to fill the 8:30 sky was all but gone half an hour later. We have a story that will not be posted until this afternoon as the pictures are not available right now. Thanks for dropping by and make this day count.
---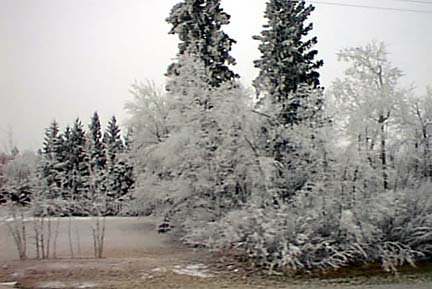 Monday
November 22, 1999
This picture was taken on Friday afternoon near Star City. Frost looks different this year because so many trees have budded out and the frost forms much thicker then other years. This morning we return to Tisdale 59 years ago for a fire and we have an outstanding story of a man and his tractors.
---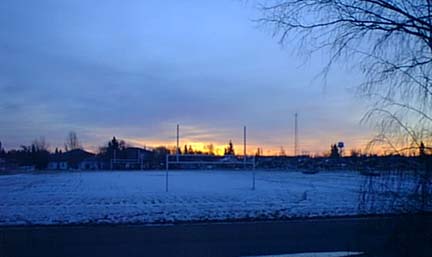 Sunday
November 7, 1999
At 0800 this morning this was the beginning of this fine weather Sunday with temperatures quickly moving above the freezing mark and much of the snow/ice in the fields will all but disappear today. Should have some new stuff later today so come on back and check Ensign out.
---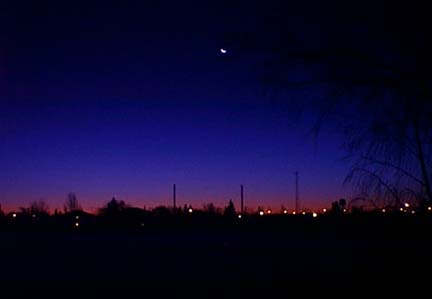 Friday
November 5, 1999
This is the early 0700 sky this morning with the moon checking us all out and the clear morning sky home of a gentle breeze from the South West.
---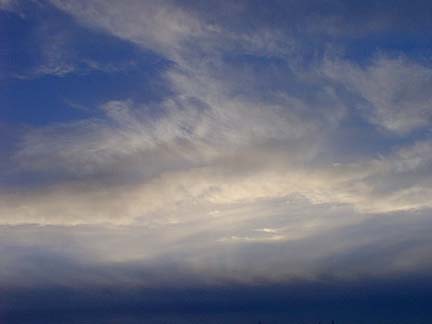 Wedmesday
October 27, 1999
Though we have a gentile surface wind from the West this morning very high above us there is considerable wind from the South West. This picture was taken at 0800 looking almost due East. No chance of percipitation in that sky as things are really so dry now that farmers are unable to apply annhydrous amonia to their fields.
---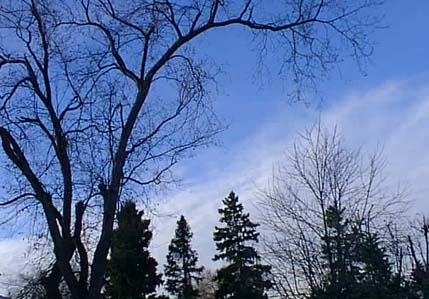 Wednesday
October 20, 1999
It was exciting, yes exciting to see the sun once again this morning. With temperature up and that South West wind, this looks like a great fall day. This morning's picture was taken looking up in our back yard at 9:40 to the whispy windy clouds associated with upper winds from the South. Today Ensign will have an article dealing the fall suppers and community meal customs, this will be posted around 11:30. When you go out today stop for a moment and appreciate the warmth of the sun.
---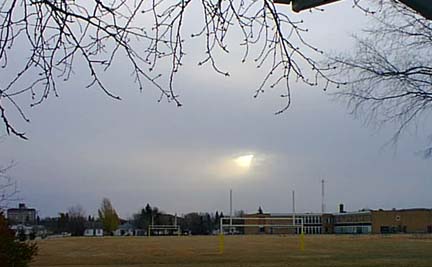 Tuesday
October 19, 1999
Its a sad commentary on reality but after so many days of it being overcast it seemed perfectly appropriate to take a picture of a little shaft of sunlight that glinted through this morning's sky at 0800.
---
Sunday
October 17, 1999
This is how the daylight portion of Saturday ended. The low cloud lit with a shaft of sunlight after a day of overcast and dull gray. This morning is more of the same only now there are small amounts of percipitation available, so far its just rain but with such low temperatures it could easily become snow. Today we consider a "what if" scenario as our way of life continues to change what will things be like in the years to come on the prairies. That story will be posted this morning just after 1100, thanks for dropping by.
---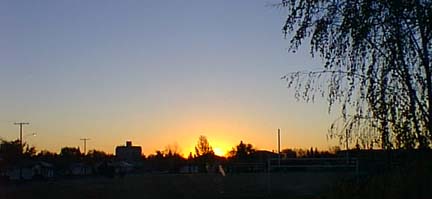 Thursday
October 14, 1999
This is how sun rise looked this morning as the sun surveyed our cloudless autumn sky. Drop back and have a look at the Anglican Church's fall garage sale on today. Pictures of this event will be posted at 1100.
---
Thursday
September 30, 1999
With temperatures below freezing and a howling wind most of the night this is not good harvest weather or even post harvest weather. Winds exceeded 40 knots overnight and any leaves that would move did so and as you can see from this picture taken at 9:00 this morning many are piled on our front lawn.
---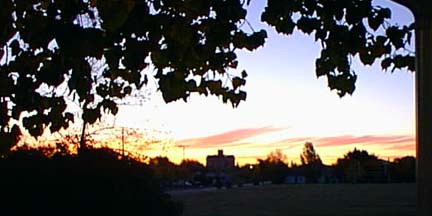 Thursday
September 23, 1999
As we slept the sun crossed the equator and will spend six months giving longer days to the Southern hemisphere and shorter ones to us, thus begins the first official day of autumn, the day of equal daylight and darkness. This pre-dawn picture was taken at 0622 and shows this morning's nearly clear skies. No new articles will be posted today as I am out of town but will have some new stuff tomorrow.
---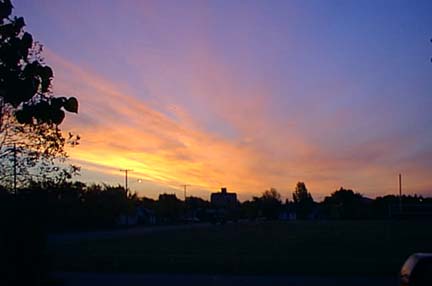 Wednesday
September 22, 1999
As the new day began (about 6:30) a hint of high winds aloft herald changes for the people of Manitoba as they elected Garry Doer's NDP folks after twelve years of Garrh Philmen's PCs in yesterday's provincial election. Doer will have a simple majority and Philmon is quitting and perhaps heading to Ottawa.

This morning we are checking up on some contruction projects and having a look at fall agriculture. These stories will be posted around 11:00 this morning. Thanks for dropping by.
---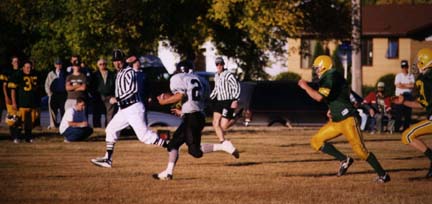 Saturday
September 18, 1999
This picture was not available Thursday when I did up the story on Tisdale's first game of the season so this morning with the sky in a particularly unpleasant form I thought we could savour this week's victory one more time. This picture is of the second last touch down of the game with back judge Bob Price, whistle in his mouth ready to signal the score.
---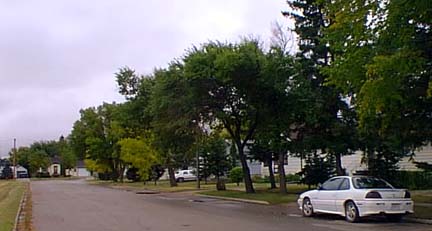 Monday
September 13, 1999
This is the look of our dampened street this morning at 10:00 as you can see the trees are rapidly adopting their transisional colours and there is a definite look of fall. A year ago today Ensign announced the conclusion of harvest, in comparison it would appear that we are now about 65% done but those who planted early are all finished and others will be at it for some time to come. The rain will actually speed up the process as the Canola will be in better harvest condition as a result.
---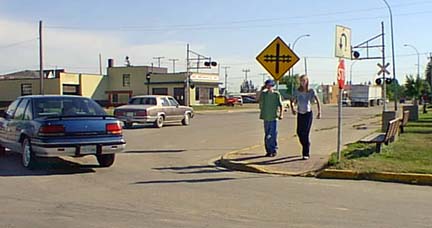 Thursday
August 26, 1999
This picture was taken late yesterday afternoon and I thought it sort of has a lot of the elements that make up this community. From the grain truck to the multiple signs, pedestrians and traffic. The big "X" has always been the sign indicating a railroad crossing yet here we have and oddball thing, a person wonders why?

Winds were brisk overnight and this morning the smell from the alfalfa dehydration plan is wafting over town. More on that later this morning, so come back and check out today's articles on the fire at the dehydration plant and perhaps some political opinion.
---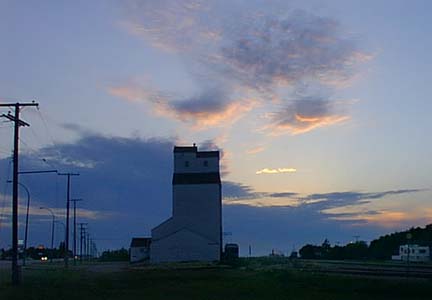 Friday
August 20, 1999
Last night's sunset tells this morning story of an overcast sky. However it is very warm and the wind is calm. Ensign will have a couple of new stories later this morning so come on back and take a look around later today.
---
Saturday
August 14, 1999
This picture shows the morning sky at 6:30 with expected showers in Southern Saskatchewan today but warmer. Ensign will not be posting any new articles later today or tomorrow as we are taking this weekend off. Will have new material on Monday. In the mean time check out the pre-release of the iMac a year ago today and a rural cemetary was featured a year ago today.
---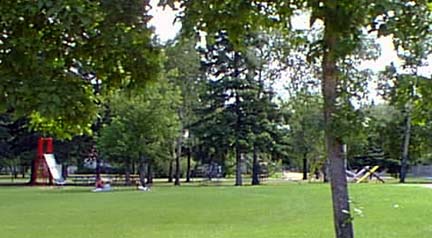 Tuesday
July 20, 1999
This picture taken yesterday at noon of a mother and her two daughters picnicing in a park seemed like the best way to start today with its great blue sky and mild temperature. Though there were thundershowers in the area last night they passed us and this morning for the fourth straight day aerial crop spraying began at first light.
---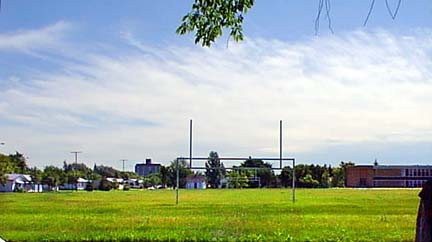 Sunday
July 18, 1999
Lookin' good so far. We have an editorial from Stu Innes this morning and some other stuff so come on back a little later and check those stories out. I am a little late in getting underway this morning but will soon get back up to speed.
---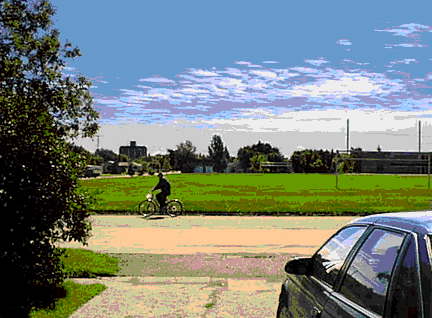 Saturday
July 17, 1999
Good morning Ensign readers. The pictures seen here this morning were taken at 9:30 and show the sort of cheery day it is here in Tisdale. On the horizon just above the bicycle rider's head is the makings of a tower cumulus cloud, it looks like a chance of showers later today.
---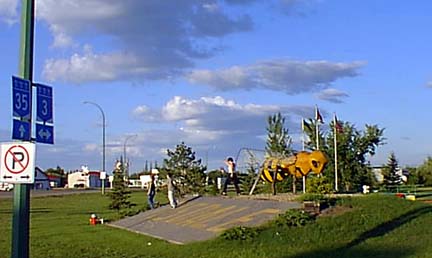 Today is Bastille day, yeah I realise it may not mean much to you but to the people of France it is their national holiday commemorating the beginning of the revolution as the people of Paris stormed the prison holding political prisoners. Vive la France!
Wednesday
July 14, 1999
This morning we have some stories in the works to update you on several civic projects in Tisdale. Thanks for dropping by the new stories will be posted later this morning.
---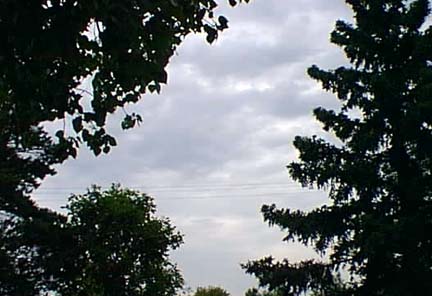 We are back, after extending a five day stay into eleven days are happily back in Tisdale. This is the morning sky at 0900 this morning.

Tuesday
July 13, 1999
This morning we will have an interesting article on the development of the entertainment industry in Winnipeg and a Portage la Prairie dog. These will be posted before noon today.
---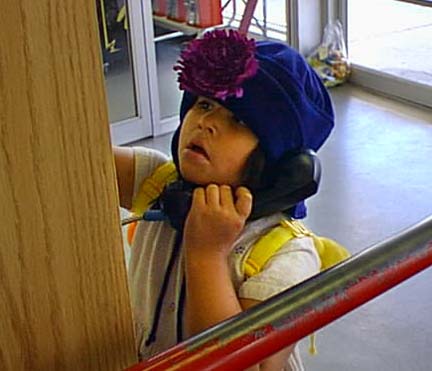 Saturday
July 10, 1999
She was pretending to make a telephone call when I spotted her and could not resist getting this image to share with you. Afterward I told her how I loved her hat and she gave me a big smile.
Today we have an adventure for you as Kevin from Carrot River moves to California, we also have some interesting pictures around Winnipeg. All these will be posted during the morning.
---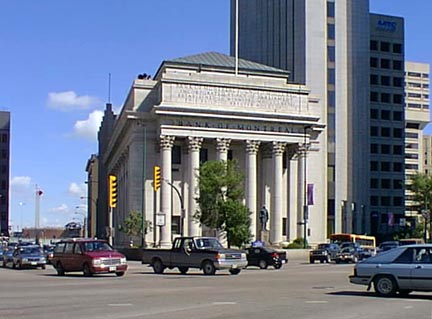 Tuesday
July 6, 1999
This picture was taken yesterday afternoon at the corner of Portage and Main showing the same building seen in a blurry image a few days ago. Our stay in Winnipeg has been extended a day or two beyond our plans but today it is a bright warm summer day. A year ago today we carried an article on the economic situation in Carrot River and an article on asunset. In a few minutes we will be posting a few short articles that might interest you so come back and check them out.
---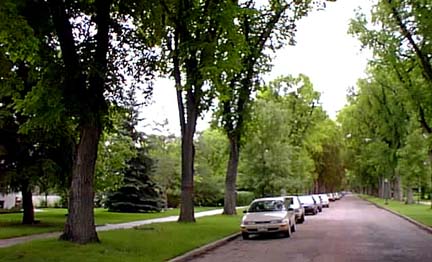 Showers across the prairies dampen Canada Celebrations

Thursday
July 1, 1999
With rain or the threat of rain all the way from Winnipeg to Calgary folks will have to pick their activities and clothing carefully. This picture was taken at 10:00 local time this morning in Winnipeg.
---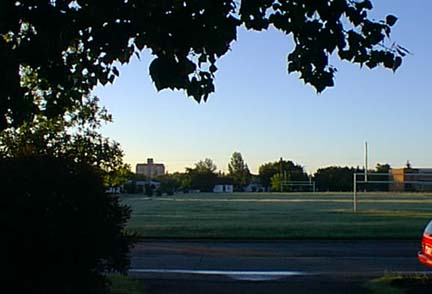 At only +3 this morning its a chilly beautiful morning. There were reports of frost near Crooked River yesterday morning.

Sunday
June 27, 1999
---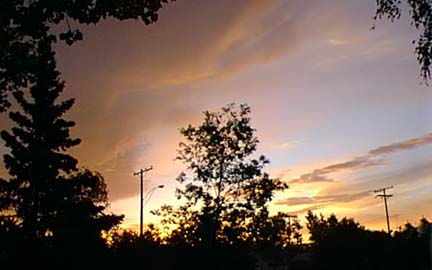 This is the morning sky at 0438 this morning with the wind huffing and puffing.

Wednesday
June 23, 1999
This morning we will be posted an article on Revenue Canada and its public relations programme see this and more later this morning. Thanks for dropping by this morning. A year ago we had an article on the great scenery around Pleasantdale and on Pleasantdale itself.
---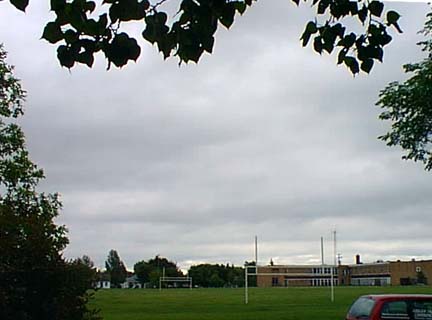 No appology for this dull picture taken at 0900 this morning. Solid overcast sky after several thunder showers during the night refreshed the fields and flowers. But, from those skies it would appear unlikely that the showers have ended.

Tuesday
June 22, 1999
Today we have a highly critical article of the provincial government's handling of the Worker Compensation Board. In addition we have a remarkable account of the agricultural situation in South Eastern Saskatchewan.

Yesterday the table of contents was updated, so you can use it to find past articles posted here on Ensign.
---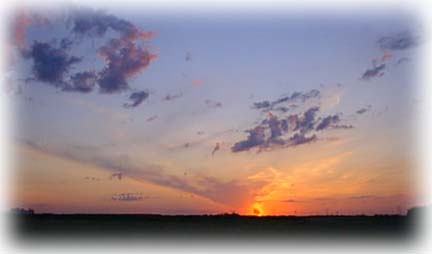 At 9:20 last night the sun left the sky spraying it with colour from the remains of the departing day.

Saturday
June 19, 1999
Today we check out a man and his bike, concerns about illegalities with the Workers compensation fund and an old car. All of these will be posted between 1100 and 1200 so be sure to drop by later today.

A year ago we had two stories in Ensign one on the amazing changes in computer software and the other on a Tisdale Flying hero.
---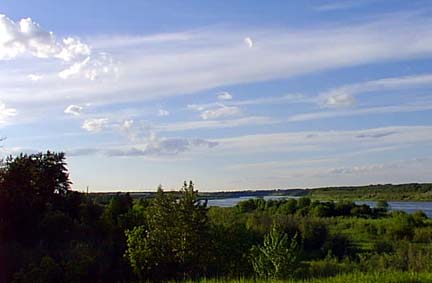 Sensation Monday morning, what a clear sky, sorry about the prediction of showers yesterday, I did not realise the intensity of that cold air layer nor did I realise that there would be so little day time heating.

Monday
June 14, 1999
The image above was taken at the Saskatchewan River crossing at the Muskoday First Nations Sunday night. Thanks for dropping by, andsend me email.
---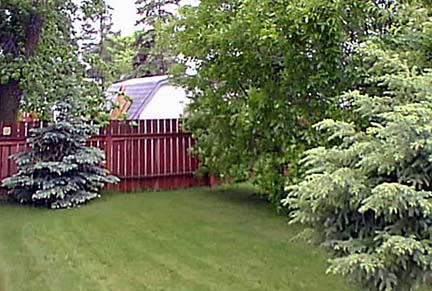 Saturday
June 12, 1999
Starting a little slow this morning, the dark skies and rain a definite deterent to enthusiasm. This picture was taken at 1100 this morning in our back yard and though the rain dampens the spirits the lawn and trees have a much different attitude toward the precipitation. Drop back later today we are working on some other stories and hope to post later today, thanks for dropping by and send me email I love to hear from people who visit Ensign.
---
Just A Little Horse

Satruday
June 5, 1999
Meet Moonbeam the newest member of Wolf Creek Farms growing herd of miniature horses.
This story, a visit to the alternate universe and one about alfalfa will be posted later this morning. In the mean time check out Ensign a year ago when we had an article onindividual farmer shipping and on a golf tournament.
---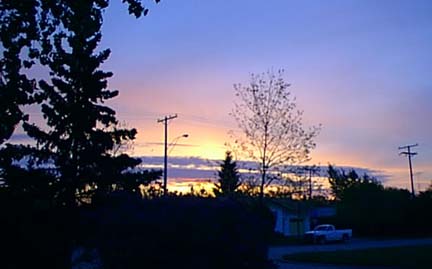 "June is busting out all over" I'll spare you the song, but the sunrise was poetry as you can see at 0440. A year ago today we had frost and this day last year Ensign had a comprehensive article on alfalfa dehydration.

Tuesday
June 1, 1999
Thanks for dropping by this morning hope you found something interesting. Please come back later today, by noon there will be several new articles, one on 9 year-old baseball and perhaps some other interesting things.
---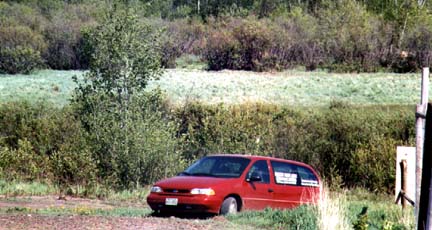 Monday
May 31, 1999
"To seek out new life forms and civilisations, to boldly go where no one has gone before!" The FTLComm van picture was taken while visiting with the Elk last Thursday. Each day is a new quest for things of interest.
---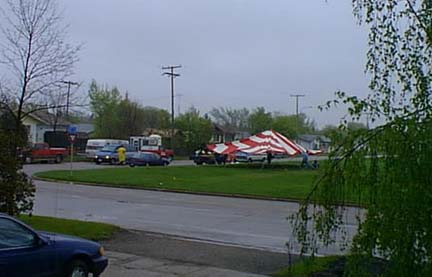 God God Save The Queen
Saturday
Maay 22, 1999
Victoria Day weekend, the roads were clogged last night with folks heading off to their cabins for the wet weekend. The scene above is the damp beginning to an auction sale at 0800 this morning as workers set up shop in the standard morning drizzle. We have some interesting stuff that will be posted before noon today so drop back later and have a look at a story about a helicopter.
---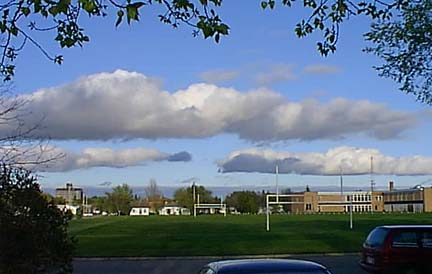 Friday
May 21, 1999
After two weeks of gloom this is how things looked Thursday evening. But alas this morning we were greeted with the ceiling dragging on the ground in fog. Today Ensign has a couple of picture stories on things that look good including a QuickTime VR panorama in a pleasant neighbourhood, so drop back and have a look, these stories will be posted before noon.
---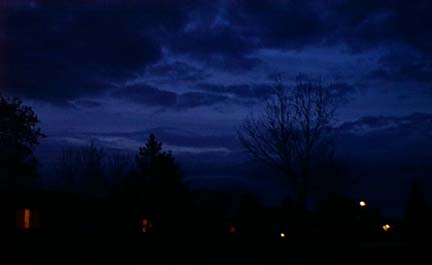 Sunday
May 16, 1999
This picture was taken Saturday night around 9:30 and little has changed as far as the sky goes since then. This morning there are a few breaks in the clouds but it could shower at any time. One big change is the wind has shifted to the North which only suggests another miserable weather system replaced the last miserable weather system. We have a couple of things for you new today, Mario deSantis has a revealing bit of concern about our premier and we also have some additional political satire that will be posted later this morning.
---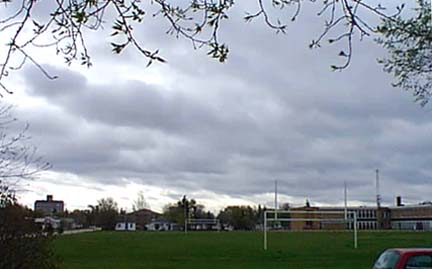 That's the sort of sky we have had for several days, no precipitation over night but there is a possibility of showers today.

Wednesday
May 12, 1999

Ensign may stutter a bit this week as we are moving from one server to another Wednesday and Thursday.
---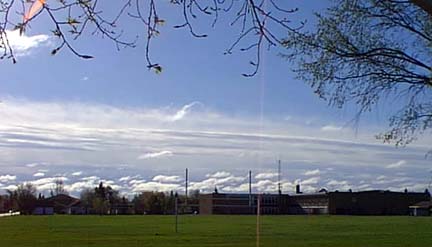 This picture was taken at 0800 this morning and shows the multiple cloud layers off to the East. There is a sharp North wind moving the low level cumulus along from left to right in the picture.

Thursday
May 6, 1999
Yet another airplane in Ensign today, this time a modern work plane. If you read the article yesterday on the Ercoupe there were some additions to it later in the afternoon you might want to look at. There are a few more picture stories and the story about the Air Tractor, so drop back later this morning to see those.
---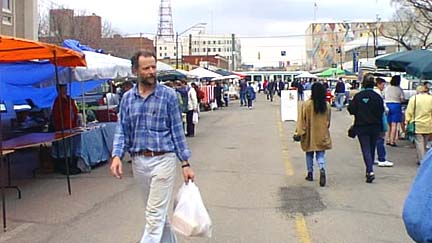 Saturday
May 1, 1999
This is the street scene at Saskatoon's farmer's market around noon today. Stories tomorrow morning, including a report on the Saskatchewan School Librarian's conference, a farm house fire at Alvena and protesters over Serbian Bombing.
---
Friday
April 30, 1999
No question about it is time for Yard and garage sales. With St. Matthew's Angilcan church into their second day of their sale this one is a neighbour of ours and cars began arriving right at 9:00. Today must be food day as we have two articles on Vi-Co and Rhubarb. There will be no morning edition of Ensign Saturday as I am going into Saskatoon today and will not be back to the office until Saturday afternoon.
---

Thursday
April 29, 1999
This picture above is mid afternoon Wednesday as the fog from the morning hung around between Melfort and Star City for most of the day.
---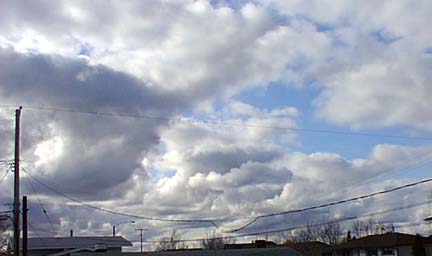 Wednesday
April 28, 1999
The picture above was taken late Tuesday afternoon but those are great little cumulus clouds. As the evening came so did the fog and we can expect it to be cloudy most of Wednesday, at least in the morning.
---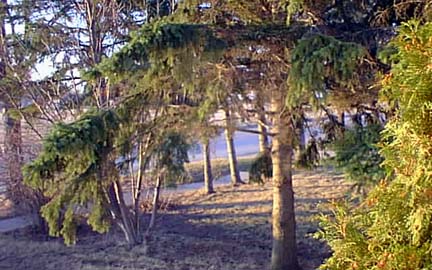 Friday
April 23, 1999
This picture was taken as the sun was rising this morning around 6:00 and you can see how the conifers are starting to come to life with a much more vibrant green. Though this light doesn't show the changes the dead grass is coming to life everywhere. One fellow I was kidding about mowing dead grass told me he took four garbage bags of it off his yard. I am in the midst of technical changes and revisions in the office.
---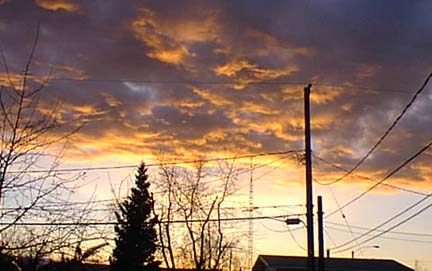 Thursday
April 15, 1999
Last night's sunset showed the fragmentation of the relentless West wind and the backyard overhead spagetti.
---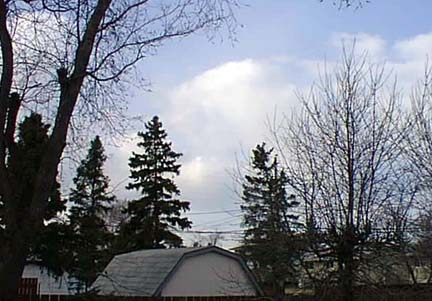 Tuesday
April 13, 1999
The picture above was taken at 0900 and shows the development of immature tower cumulus and there is virga visible beneath several cells in the area. The gloom of the sky is disguising the prospect of showers, let us hope the strikes will also lead to positive developments in Saskatchewan's troubled healthcare system.
---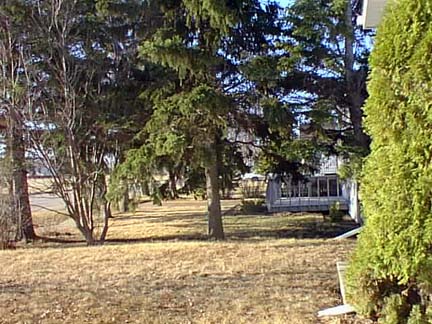 Monday
April 12, 1999
As you can see (0800 this morning) the snow has gone once again as it was pretty well history by noon Sunday. This morning we have yet another airplane story so aviation buffs will want to come back later this morning to have a look at that story and pictures.
---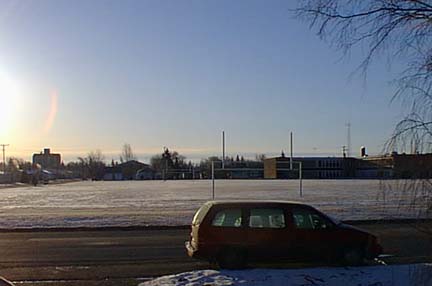 Sunday
April 11, 1999
The picture above was snapped at 0700 with -4 degrees and everything covered with a coat of frost. Have a look around at 0900 and see a frozen puddle and what is left of Saturday's snowfall.
---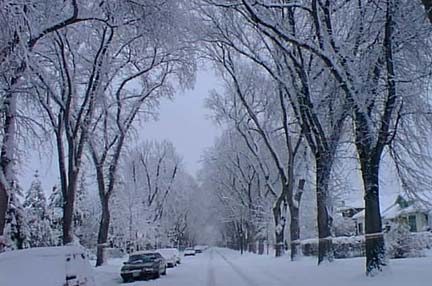 Sunday
April 4, 1999
At first it seemed a novelty Saturday night when it began raining but it soon became pellets and then heavy snowfall. Here are some Easter Sunday snow pictures.
---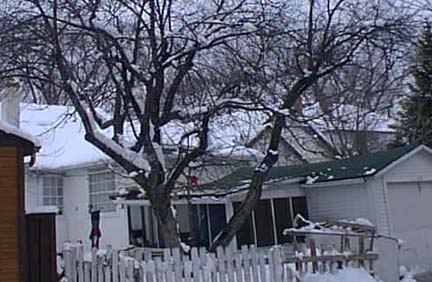 Saturday
April 3, 1999
It's winter again in Winnipeg. About half a foot of snow covers everything, fortunately the streets are warm enough to prevent things being really icy but with temperatures well below zero there are icy patches on sidewalks and streets. More snow expected today.
---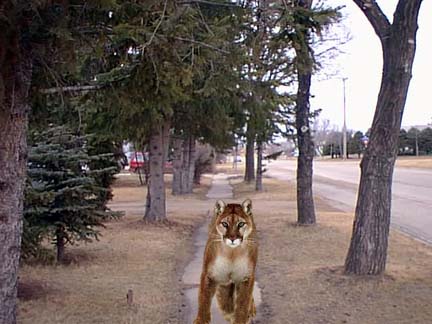 Wednesday
March 31, 1999
With definitely cooler temperatures and a chance of snow coming with today's North wind we are declaring March going out like a Lion, albeit a gentle Puma type Lion, but still a Lion. ( This morning's photograph is actually our street at 8:00 this morning with the enhancement of the Cougar. Mountain Lion portion of the picture from Donna's Cougar Page.)
---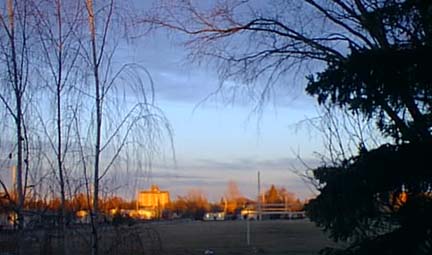 Sunday
March 28, 1999
The picture above is from sunset Saturday night.
---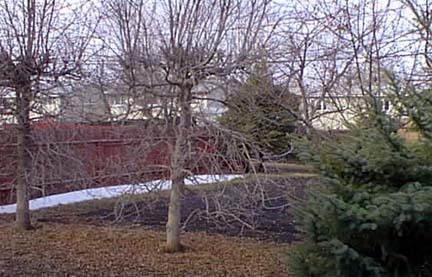 Saturday
March 27, 1999
What a wind, it is howling out here this morning. You will notice that therash that developed last week continues to spread so that only that little line of snow is left in the back yard.

Work continues on the Ensign Index, it is a good way to find things on this site but it is still only about 25% of the material and will have to see each letter of the alphabet get its own page shortly as the size is slowing the loading of the page. I would appreciate any feedback you might have on the index or anything you see in Ensign.
---
A Touch of Virga

Friday
March 26, 1999
There is a certain dampness in the morning clouds, this picture was taken at 0800 this morning. For more images of these spring clouds click on the picture.
---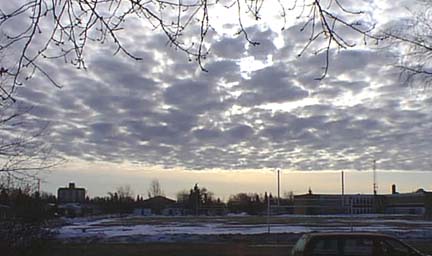 Saturday
March 20, 1999
That early morning cloud cover will disappear shortly and it looks like it going to be a fine spring day. Sorry we did not get some pictures of the Masters Tournament I tried to get some of the banquet but just did not connect.
---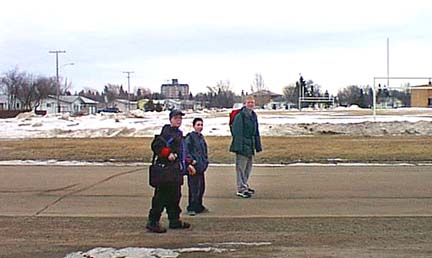 Friday
March 19, 1999
Three grade seven guys on their way to school (8:40) on this dull Friday morning. For two this year's hockey season is over but the tall guy reports that his team still has a tournament to play in Saskatoon. Yesterday these fellows were among the grade sevens who put on the great heritage day display in the RecPlex theatre as a part of education week. Sorry I was to late getting there to show you any pictures of the great event. Today is the second day of the six team Open Master's Mens Curling championship we should have pictures in tomorrow's edition of this event.
---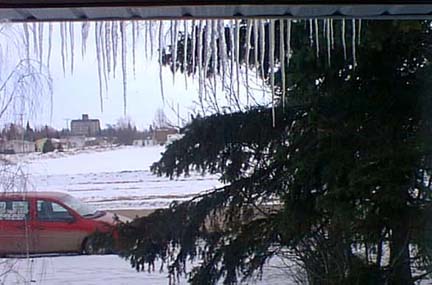 Saturday
March 13, 1999
Though the weatherman talks of warmer weather this is a slow spring largely because of the premature arrive of the season last year. Seems a little cool this morning and a sharp South East Wind.
---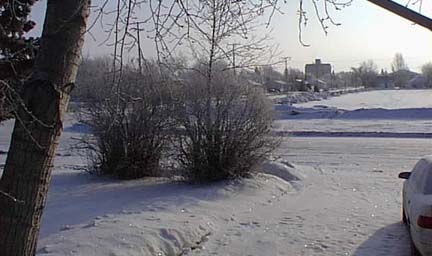 Sunday a foggy morning

Sunday
March 7, 1999
The deep foggy of the night is quickly disappearing here but will linger in the South of the province until noon. A large number of upgrades have gone into the background of Ensign this morning We welcome James deSantis for the second time today this article appearing today is the first of three and parts 2 and 3 will appear tomorrow and Tuesday. Due to a server failure yesterday morning we were unable to upload yesterdays upgrades.
---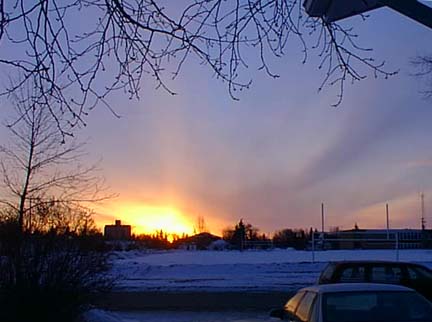 Friday
March 5, 1999
The snow storm the whipped around Southern Saskatchewan missed us and though it is cool at -21 and we have gusting winds this morning as you can see at 8:00 it promises to be a nice day. That is very thin cloud near the horizon that is giving us that fuzzy sunrise. Enjoy Friday, it only comes once a week.
---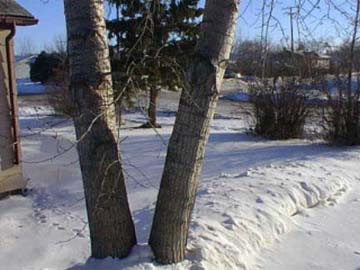 February 27, 1999
A picture of this great morning and Data's take on things.
Tomorrow look for an informative article on the changes brought about by the Supreme Court ruling on Friday and Mario deSantis explains the practical and postive educational trend toward System Dynamics.
---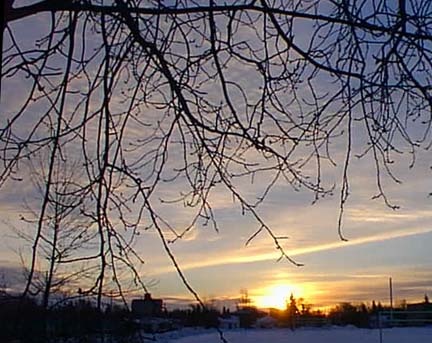 Thursday, February 25, 1999

After so many days of cloud the whispy alto-stratus this morning is welcomed and with a temperature of -6 it looks like above freezing temperatures will be with us before noon.
---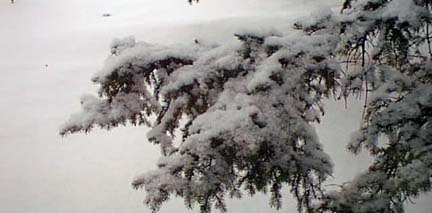 Saturday
February 20, 1999
Not frost but light fluffy snow with calm winds, this view is of a tree in our front yard at about 9:00, click on the picture to see the bony bunch in the back yard.
We have two stories that will be posted later this morning. One on the Tisdale Firefest and the second is on Ramblers game last night against Preeceville, pictuures and a panorama. Light snow over night but temperatures remain favourable.
---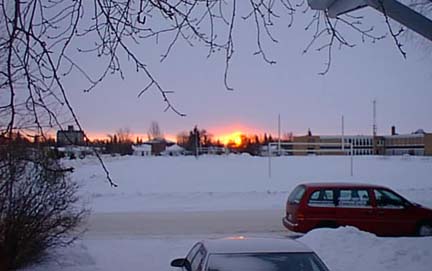 Tuesday
February 16, 1999
Just a few flakes floating around, the sun broke through at sunrise which was about 8:30 when this picture was taken then it slipped behind the solid overcast. That clearing in the East is because of a high pressure area in Manitoba that is giving -25 temperatures to Hudson Bay this morning. We are working on several projects and hope to post at least one article before noon today so come on back later today.
---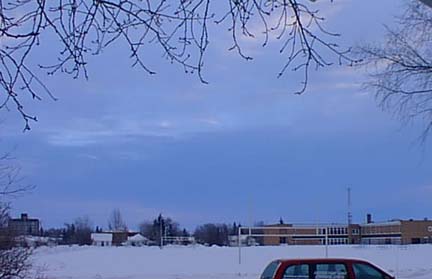 Tuesday
February 9, 1999
This picture shows the sky at 8:30, the flames of sunrise now subsided replaced by this rich blue. By 9:00 the sky turned a wonderful silver colour as it is clear that though not available now the sun will be peaking through much of the day with a chance of some snow. Steady East wind.

Every so often Ensign posts a morning picture like this if you want to refer back to this or other morning sky pictures on the list at right just click on "Front Pages". You can also review the daily weather by clicking on the "Weather Log" at the right just under the header line above. And, if you want to catch up on wisedom you might have missed you can review "Tim's Tips" by clicking on the title in the Tips box.
---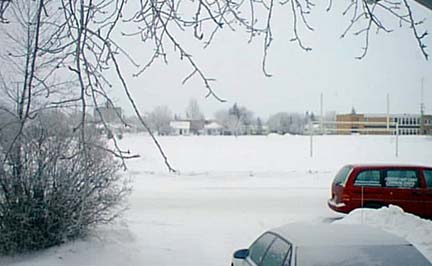 Monday
February 8, 1999
Its a white world this morning with some descending ice crystals and snow flakes and last night's fog left a light layer of hoar frost on the trees. The picture above was taken at 8:45 this morning.
---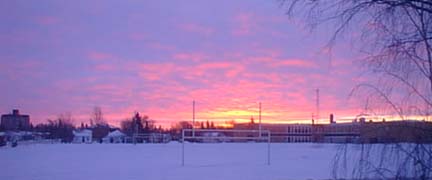 Tuesday
February 2, 1999
---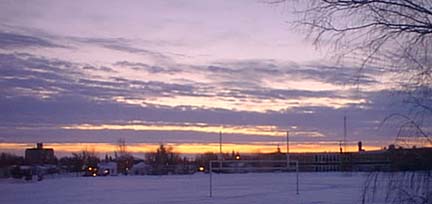 More hospital closings in Saskatchewan, grain handlers threaten to renew their strike, Monica before the US Senate and another warm winter day to start off this month of February.

Monday
February 1, 1999
Thanks for dropping by. Send us email about anything that interests or disturbs you in Ensign, have an interesting message in letters later this morning check that out. This morning's picture is a few minutes after eight this morning.
---

Sunday
January 31, 1999
So here we are at the end of another month, this new year is already partly used up. With only a couple of warm days already the snow in the fields is disappearing. This picture was taken yesterday near Eldersley (East of Tisdale) at 5:30 and shows the snow cover disappearing.
---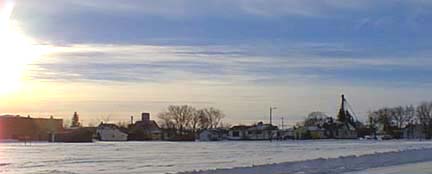 Saturday
January 30, 1999
What a day! This is what it looks like at 10:00 and the snow is melting. Here is a short discussion about our obsession with weather conditions.
---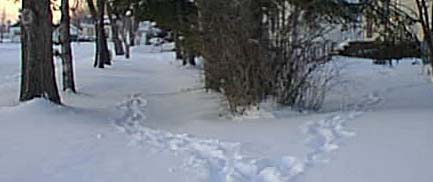 Tuesday, January 26, 1999
As you can see above (8:55 this morning) I need to shovel off our sidewalk. Remarkably calm this morning and promises to be an excellent day.
---

Monday
January 25, 1999
It is a much gloomier morning then yesterday (pictured above). This morning's grey sky has high cloud and below that a few long thin layers of stratas cloud but as sunrise approaches one can see beneath the cloud toward the East which suggests that it is not as solid as it appears. However some parts of the province do expect snow later today. Almost balmy -13 this morning with a wind from the South. Enjoy the Bard's day.
---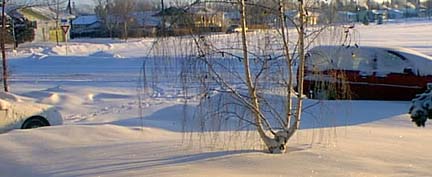 Sunday
Janurary 24, 1999
As you can see it is a "good morning" I truly love the blue shadows on snow they are subtle and yet more then the absence of light. Though -26 that sun will warm things up and the wind is gentle from the South. Skidooers are filling their tanks.
---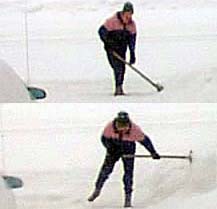 Snowy morning in Tisdale. With -15 and light snow we got out our snowblower to clear the driveway.
Saturday

January 23, 1999
About two inches of fresh fluffy snow has fallen over night and continues to fall (visibility at 10:00 down to less then a mile). The snow cover in the area is very light so this snow is welcome and the skidoo owners are very happy